Bellflower

Garage Door Opener Installation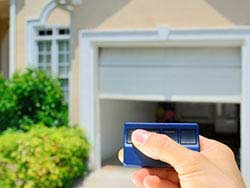 Your garage door doesn't function without the right garage door opener. Here at Garage Solutions Plus, our garage door openers are tough, reliable, and very quiet. Wherever you live in Bellflower, California, Garage Solutions Plus provides superior and affordable garage door services.
When you choose to hire Garage Solutions Plus to install your garage door opener, you'll receive our expert guidance so you can make well-informed decisions:
electric-powered garage door openers  An electricity-powered garage door opener, to be of premium quality, means extraordinarily quiet. You don't want to disturb others whenever your garage door opens.
remote-controlled garage door openers  Obviously, with the convenience of a remote control you don't have to leave your car. We'll always make sure your remote control code is totally secure, so only you can get inside your garage.
additional garage door opener features  Staying up to date with garage door industry developments, we continuously add new beneficial features. One popular feature is the automatic courtesy light, which comes on if your garage door opens. Another is the remote lock-out, good for if you'll be gone for an extended period.
CALL US! (562) 387-1533  Your troubles will soon be over!
Garage Solutions Plus offers many garage door opener services in Bellflower, California. Whatever garage door opener services you seek, you can rely upon us to resolve the problems expeditiously and professionally.
Furthermore, we are available to respond 24 hours a day, 7 days a week!
CALL DAY OR NIGHT! (562) 387-1533